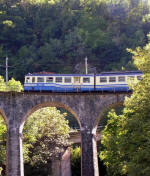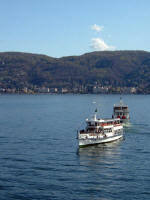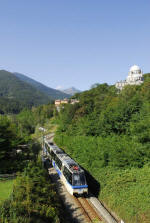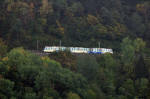 The Lake Maggiore Express is a full day round trip by narrow gauge railway and ferry. It is a wonderful opportunity to see the valleys and towns surrounding Lake Maggiore.
After taking the train from Stresa to Domodossola you board the narrow gauge Centovalley Railway that travels to Locarno in Switzerland through the "hundred valleys" area. The little train winds its way up the Centovalley Valley passing many traditional villages and old stone houses. From the train you can enjoy the spectacular scenery of beech and chestnut woods, alpine pasture, mountains and waterfalls. The railway crosses 83 bridges and travels through 31 tunnels between Domodossola and Locarno.
When you arrive in Locarno there is ample free time to have lunch, explore the town centre or ride up the funicular to the Madonna del Sasso Sanctuary.
The ferry leaves Locarno in the afternoon for a gentle cruise back down Lake Maggiore to Stresa. On the way you can sit out on the top deck in the sunshine and watch as as you sail past the pretty lakeside towns and Borromean Islands.
Alternatively you can catch an earlier ferry from Locarno and spend your free time in Ascona, a pretty little artists town, before catching the same afternoon ferry back to Stresa.
If you wish to explore the "hundred valleys" area further then please contact Viaggi Tomassucci for specific timetables.
Practical Info
2016 Prices:
Adults - € 34.00
Children 4-12 years € 17.00
This is an independent excursion with no guide and operates according to the 2016 timetables below. You will need Acrobat Reader to view them.

Lake Maggiore Express
20/03/16-09/10/16
Out of season you can still travel to Locarno using the train in both directions as follows:
Stresa - Locarno return by train and Centovalley Timetables
Individual tickets and group bookings/rates at Viaggi Tomassucci:
Optional extras 2016:
For € 10 you can add on a one day rover ticket for use on the ferries the day before or the day after you travel on the Lake Maggiore Express. It is valid for travel on all ferries on the whole lake.
There is a bar on board the ferry.
In Locarno you can pay with Euro but you may get given change in Swiss Francs.
You will need you passport for travel into Switzerland