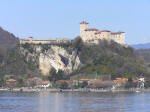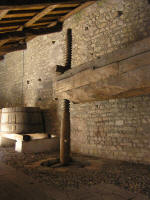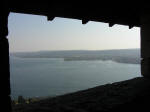 The Rocca Borromeo or Borromeo Castle is a rare example of a medieval fortified building that has been completely conserved.
The 14th and 15th century Castle Tower has wonderful views around the lower part of the lake and although they are slightly damaged from the damp, there are some beautiful frescoes in the "Sala della Giustizia" which depict the former owner, Ottone Visconti's victory over Napo Torriani in 1277.
Also of note is the 17th century grape press used for wine production.
The Rocca is also home to a doll's museum which fills 12 rooms in the Viscontea and Borromea wing. There are over 1000 examples of dolls, toys, books and board games and it is one of the biggest and best collections of its kind in Europe. Showing their history, there are dolls made from wood, wax, papier-mâché, porcelain, cloth and plastic.
The Rocca was originally purchased by the Borromeo family for 12,800 lire and soon became their official residence. Ownership was contested by the Sforza family, but in 1449 it officially became property of the Borromeo family.





Practical Info
The Rocca Borromeo is open from the 18th March 2016 to 23rd October 2016 from 09.00 - 17.30 (last entry). Tickets cost € 9.50 for adults, € 6.00 for children (6-15). Children under 6 years are free.
Visitors who have walking difficulties or who rely on a wheelchair are advised that the pathways are cobbled and that there are lots of steps up and down around the castle. The Rocca Borromeo is therefore considered unsuitable for wheelchair users.
Photos and video for personal use are only permitted externally.
Picnics and dogs are not allowed.
It takes approximately 1½ hours to visit the Rocca.
There is a café and a book/souvenir shop.
The local ferry runs to Angera direct from Stresa. It is not a regular service so check the timetables in our Travel and Transport section.