Stresa is an ideal base for several sports including golf, mountain biking and water sports.
Below you will find details of golf courses nearby Stresa as well as who to contact for mountain biking around Stresa and Mottarone and what water sports can be done on Lake Maggiore.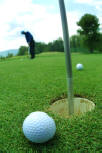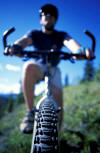 Golf
There are several wonderful golf courses around Stresa with panoramic views across the lake.
Golf Club des Iles Borromées is situated just a 10 minute drive from Stresa following the signs for the A26 motorway and Gignese. The golf club is then well signposted. The course has 18 holes and a par of 72. Tee information: 6,122 metres. The course is open October - December and February to June every day except Monday. From July to September the course is open every day. There is a comfortable club house with a restaurant. Other facilities include a driving range, a putting green, 30 electric golf carts, golf clubs and trolleys for hire.
Alpino Golf Club Stresa is situated in Vezzo, near Gignese, just a 15 minute drive from Stresa. The course has 9 holes and a par of 35. Tee information: 2,723 metres. The Club House has lockers and bag storage and a restaurant with panoramic views over the 9th hole. Trolleys, golf clubs and golf carts can be rented.
Circolo Golf Piandisole is situated near Premeno which is approximately 45 minutes drive from Stresa (above Ghiffa). The course has 9 holes and a par of 68. Tee information: 5,023 metres. The course is open everyday from April to November. There is a putting green and carts and trolleys are available for hire. The Club House has changing rooms and bag storage as well as a restaurant with views over the last hole.
The Golf and Sporting Club Verbania is situated near Verbania approximately 25 minutes drive from Stresa. The course has 9 holes and a par of 34 - there are also 9 executive holes. Opening Times: from October to March 9.00-17.00; from April to September 8.30-19.00; closed on Wednesdays. Other facilities: driving Range (24 places of which 6 are indoor), putting green, pitching green, pitching hole, bunker, golf–carts, collective golf clinic, snack bar, restaurant and changing rooms.
Practical Info
Golf Club des Iles Borromées
Alpino Golf Club Stresa
Circolo Golf Piandisole
(Italian and German only)
Golf and Sporting Club Verbania
Mountain Biking
There are excellent opportunities for mountain biking in the Stresa area, using the Mottarone cable car to take you and your mountain bike from Stresa up to Mount Mottarone and then descend by mountain bike.
Mountain bikes can also be rented at the Stresa cable car station. For more information about mountain biking near Stresa contact Bicicò.
Practical Info
Bicicò Mountain Biking, Lake Maggiore
Alternative whilst the cable car is closed:
Water Sports
Club Nautico Stresa is situated between Stresa and Belgirate on the main lakeside road. They offer water-skiing, motorboat and sailboat rental and sea-plane flights.
Volopuro in Arona offer parasailing and other activities.
La Darsena Windsurf near the Swiss border in Pino Lago Maggiore offer windsurf and kitesurf lessons. They also offer paddleboarding and wakeboarding.
Wakeboard Lago Maggiore is situated in Meina, south of Stresa and offers wakeboarding.
Visit Stresa is an information service only and readers participate in sporting activities at their own risk. You are recommended to check operators' insurance.
Practical Info
Club Nautico Stresa
Volopuro, Arona
La Darsena Windsurf
Wakeboard Lago Maggiore