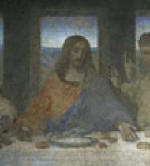 The Last Supper is a 15th century mural by Leonardo da Vinci and painted on the wall of the refectory of the Santa Maria delle Grazie church in Milan. The mural shows the Last Supper as per the Gospel of John where Jesus announces that one of his 12 disciples will betray him.
The Last Supper was completed in 1498 and is not a true fresco as it is painted directly onto the dry wall, rather than wet plaster. For this reason and the fact that it went unprotected when the refectory was used for other purposes during wars, the mural has deteriorated faster than a fresco would.
Restoration took place as early as 1726 and continued through the 18th and 18th centuries. Major restoration works began in the late 1970's when they also had to correct errors made during the earlier attempts at restoration. After 21 years the mural was finally opened to the public in 1999. To protect it all the windows were bricked up and the refectory is now a climate controlled, sealed room.
After the success of the book and subsequent film, The Da Vinci Code, visitors to The Last Supper have greatly increased and you need to book in advance. Please see the practical info to the right for how to visit The Last Supper.
Practical Info
Full price - € 6.50
Reduced price for EU and EEA citizens 18-25 years old - € 3.25
Free entry for EU and EEA citizens over 65 years old and all under 18's.
Booking fee to be paid by everyone - € 1.50
Booking is obligatory. You can book online at
Visits are arranged in 15 minute time slots with 30 people per slot. As the tickets get booked up very fast you need to be flexible about your date and time.
You will be given a reference number which you present at the ticket office 20 minutes before your allotted time. You pay when you pick up your ticket.
How to get there:
Last Supper Map & Metro Instructions
To read these instructions you will need Adobe Reader

This is an independent excursion with no guide.
You can also book online at: