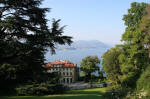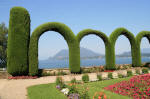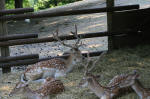 Villa Pallavicino is located on the outskirts of Stresa and dates back to the 19th century when it was built for the politician Ruggero Borghi. It was extended just a year after its construction and then passed into the ownership of the Duke of Villombrosa before finally being purchased by Marquis Ludovico Pallavicino of Genova.
Marquis Pallavicino extended the grounds and gave the villa the look it still has today. The zoological park was opened to the public in 1954 and both the villa and park are still owned by the Pallavicino family.
As you enter the park you will pass a splendid series of archways created with cypress trees, as well as wonderful magnolia trees. In the natural amphitheatre which surrounds the villa there is a magnificent Lebanon Cedar and all round the lawns are Rhododendrons, camellias and azaleas. In the old greenhouses the gardeners cultivate numerous exotic species of plants.
The zoological park is situated in the gardens and as well as zebras, llamas, wallabies, prairie dogs, parrots, toucans and much more you can stand just a few steps from beautiful deer.





Practical Info
Villa Pallavicno is open from from mid-March to 31st October 2015 from 09.00-18.00. Tickets cost € 9.50 for adults, € 6.50 for children (under 12 years). ***2016 prices tbc***
A map of the park is provided at the ticket office
As there are only very limited areas that are suitable for wheelchair users the park is not considered accessible for wheelchairs.
The villa is not open to the public.
It takes about 1½ hours to visit the zoo and gardens.
There is a cafe, a souvenir shop and a children's play area.
The Villa Pallavicino is located on the lakefront about 10 minutes walk from Stresa ferry station. The walk is on along a pavement/sidewalk all the way.
Alternatively there is a little tourist train that runs daily March - September 2013 from the ferry station car park (bus stop behind the drinks kiosk) through the centre of Stresa to the park. It leaves hourly from 09.30 with the last run at 16.00. It costs € 2.50 one way or € 4.00 return.