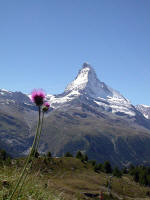 The Ossola Valley winds its way gracefully up towards the Alps and away from Lake Maggiore, leading you to the famous Simplon Pass. At the highest point of the Pass, the Belvedere View Point, there are unbeatable 360° panoramic views of the Swiss and Italian Alps. Onwards and upwards through Brig (with its Stockalper castle), Visp and along the Matter Valley leading you further into the heart of the Alps.
At Taesch you will take the rack and pinion railway up to Zermatt itself. Situated at 5,315ft above sea level, Zermatt is surrounded by some of the most famous peaks in the Alps: the Matterhorn, Monte Rosa, the Gornergrat and no less than twelve "4,000's" – peaks over 4,000m.
Zermatt is the most picturesque of the Alpine villages and is completely pedestrianised. Experience a journey up into the mountains in the cable car or take a tour of Zermatt in a traditional horse-drawn carriage. Or enjoy your free time exploring Zermatt and basking in the dramatic splendour of the Matterhorn.
Practical Info
Adults - € 81.00
Children under 12 - free
This excursion runs on a Monday and lasts a full day.
Operated by Viaggi Tomassucci:
Depart Stresa: 07.30
Depart Baveno: 07.40
Approximate return time: between 18.45 - 19.30
Optional extras:
Funicular train to Sunnegga Paradise CHF 24.00 / €21.00.
Optional extras can be paid to the guide in Euro.
You can spend Euro in Zermatt although you may be given Swiss Francs as change.
Even in the height of summer you should take warm clothing and wear sensible shoes.
You will need your passport to travel into Switzerland
Cancellations must be made 24 hours in advance